Hahnemann Memorial
July 2, 2018
Statue: Christian Friedrich Samuel Hahnemann (April 10, 1755 – July 2, 1843)
Location: Scott Circle, Massachusetts and Rhode Island at 16th Street, NW
Sculptor: Charles Henry Niehaus, New York
Architect: Isralis and Harder
Dedication: June 21, 1900
Cost: $75,000 (most raised by subscription)
Christian Friedrich Samuel Hahnemann was a German physician, known for creating the system of alternative medicine called homeopathy. He died in 1843 in Paris, at 88 years of age, and is entombed in a mausoleum at Paris's Père Lachaise Cemetery.
In 1892 at the annual meeting of the American Institute of Homeopathy held in Washington, DC., the idea of a memorial to Hahnemann was first proposed. A committee was formed, led by Dr. J. H. McClelland of Pittsburgh, PA. In 1895, after a design competition judged by a group from the American Sculptors and Architects' League, Charles H. Niehaus' design won first prize. Charles H. Niehaus was a well-known sculptor from New York City.
On January 30, 1900, Congress granted permission for the erection of a Hahnemann monument on public grounds and included an appropriation of $4,000 for a foundation. The law also created a commission for the monument, and the Scott Circle location was chosen on February 17, 1900.
The dedication ceremony took place on June 21, 1900 with President McKinley in attendance as a spectator. The statue was unveiled while the Marine band played "America."
The memorial is elliptical and made of white marble. In the center is a bronze statue of a seated Hahnemann, with the inscription above reading "Hahnemann." The features on the statue were copied from David. On the statue pedestal is the Latin inscription "Similia Similibus Curentur" which means "Likes are cured by Like."
The niche behind the statue is decorated in glazed colored mosaic representing the foliages and flower of the cinchona plant, a reference to the medicinal properties of the cinchona bark.
On the curved sides of the memorial, flanking the statue, are four brass bas-reliefs.
On the left side is a bas-relief reflecting study and experimentation. Underneath the relief is the inscription, "Die Milde Macht ist Gross" translated from German it means "Gentle Power is Great." Next to the relief is inscribed "Aude Saper" which means "Dare to Know" in Latin.
On the right side the bas-relief show Hahnemann as a teacher and a physician. Underneath the relief is the saying "In Omnibus Caritas" meaning "In All Things Charity." And next to that is the inscription Non Inutilis Vixi, which in Latin means "I have not lived in vain" an inscription that Hahnemann himself suggested for his monument in 1839.
The back of the memorial has the inscription
Christian Friederich Samuel Hahnemann
Doctor in Medicine
Hofrath
Leader of the Great
Medical Reformation
of the Nineteenth
Century
Founder of the
Homeopathic School
topped with the date when the memorial was created, MCM – 1900.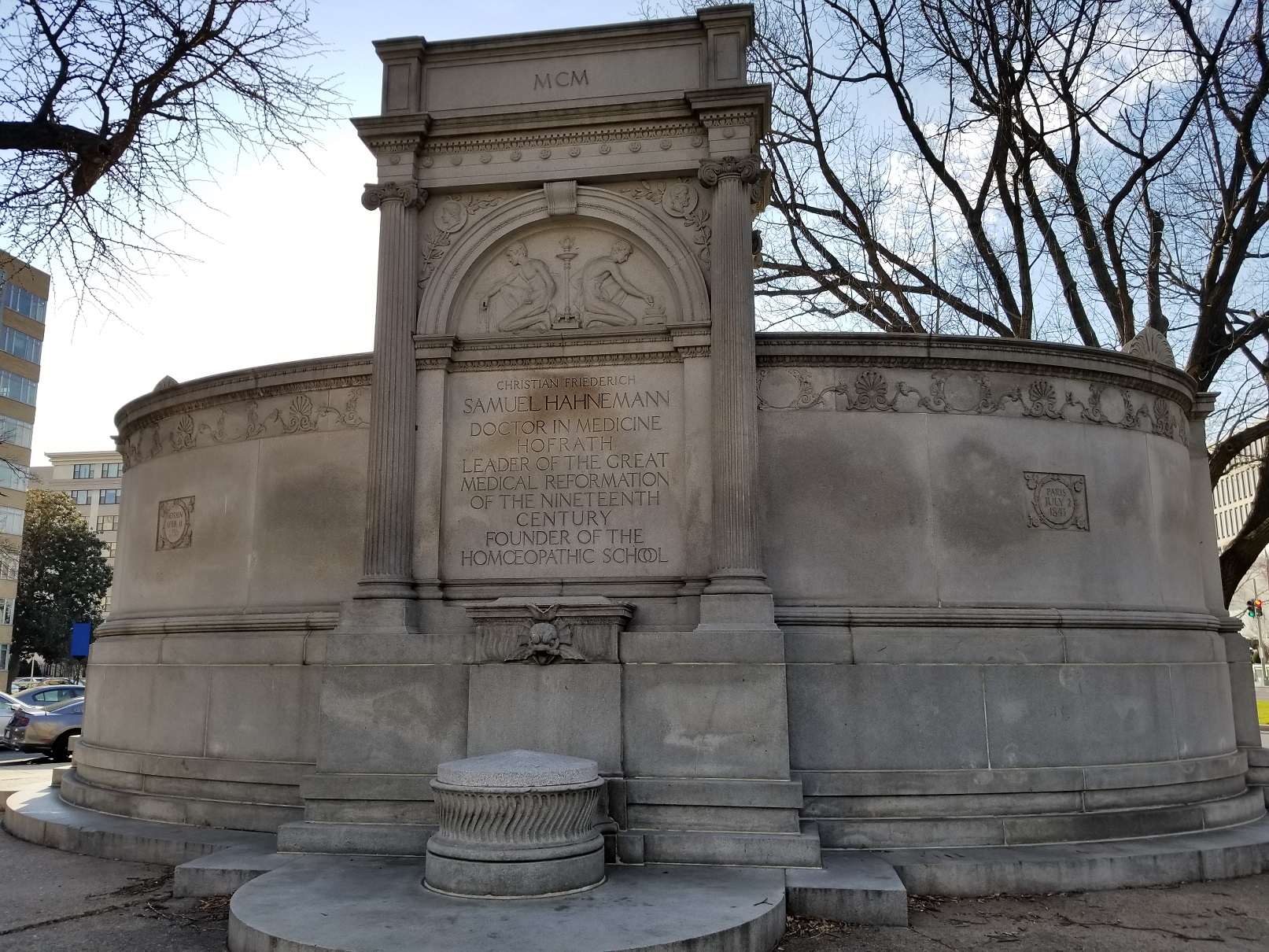 Flanking the inscription are the dates of Hahnemann's birth (on the left) Meissen, April 10, 1755; and death, Paris, July 2, 1843, encircled with laurel wreaths.
References
Scott Circle in its setting of Fame, by John Clagett Proctor. Evening Star, July 22, 1934
The Hahnemann Memorial, Evening Star, July 20, 1895
The Hahnemann Memorial, Evening Star, February 19, 1900